Site Links
Sister Sites
Featured CD


New Editon: The solo hits
Listen to Samples
My Prerogative
B.B.D. (I Thought It Was Me)?
Money Can't Buy You Love
Do Me!
Humpin' Around
Sensitivity
Poison
Every Little Step
Stone Cold Gentleman
Something in Your Eyes
Do What I Gotta Do
On Our Own
Cool Site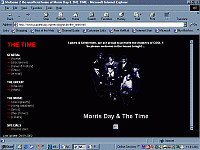 Morris Day & The Time
Yahoo Groups
Links
Mahogany Cafe

Introduction
Welcome to popstarr fanpage. Here tyoucan find info about urban stars of the 80s and 90s. Classic artists like Jayne Kennedy, Apollonia, Vanity 6 and The Mary Jane Girls. Current artists Regina King, Lisa Bonet and Jennifer Beals. Also visit our sister sites featuring classic artist DeBarge, Pebbles and Karyn White.

Looking for current news about your favorite artist checkout Popstarr yahoo group. Photos and links about your favorite stars.
---
Site Update
[8.05]
Updated Jayne Kennedy and Regina King page
Changed layout for Regina King and Lisa Bonet
Vanity/ Apollonia 6 VS The Mary Jane Girls has been updated.
Apollonia page has new photos.
---
Urban 80s stars at EBAY
Searching for your favorite 80s stars Photos, CDs, Posters etc... Go to ebay and search the site for Pebbles, Lisa Bonet, Debarge, Karyn White and more... Click Here
In the news....
I got an email from Corvette from the MJG. Covette aka Yvette Marine Barlowe has a talk show 'In the mix with Yvette' on Public Access. Find out what Yvette has been up to on her official website Click Here