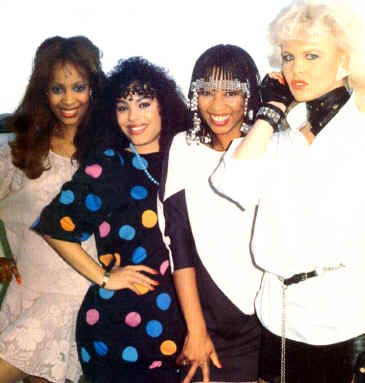 The Mary Jane Girls
In the early 80s Rick James assembled 4 talented singers. JoJo, Maxi, Candi and Cheri and named them The Mary Jane Girls. Cheri was later replaced by Corvette. The group enjoyed the hits Candy Man, All Night Long, Boys, In my house and Walk like a man.
Current Info
All the members of the MJG's was on VH1's "Where are they now?". Here are brief updates on each member.
JoJo: Patch up her relationship with her ex-boss Rick James. She toured with Rick to support his "Urban Rhaspody" CD.
Maxi: Has a beautiful son. And is a sucessful soul food cook for the stars.
Cheri: Was the lead singer of Morris Day's defunct group "The Dayzes". She formed a new group "Miss Lady" and is a part-time midwife.
Corvette: Is a mother of 2 and is a session singer
Candi: Has a production company and manages artists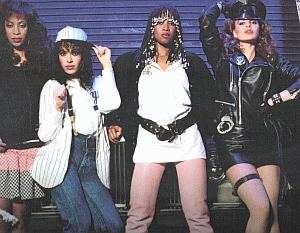 The MJG Story
The Mary Jane Girls were created by Rick James and were very much a product of the funkster's imagination. Unlike Prince's girl group Vanity/ Apollonia 6, MJG had strong vocal skills. Rick james claims prince stoled the idea of a multi racial girl group from him. The group's name was coined in the late 1970s, when James hired them as background singers for his Stone City Band. The Mary Jane Girls (whose name underscored James' fondness for marijuana) soon became an actual group, and in the early 1980s, were signed to Motown (the R&B powerhouse for which James and his prot駩 Teena Marie had been recording). With a lineup consisting of Joanne "Jojo" McDuffie (the main singer), Candice "Candi" Ghant, Kim "Maxi" Wuletich and Ann "Cheri" Bailey, The Mary Jane Girls portrayed various characters James had developed. While JoJo was the tough street chick and Candi was the glamorous supermodel, Cheri was the cutesy Valley Girl and Maxi was the whip-toting, handcuff-carrying dominatrix in black leather. In 1985, Ann "Cheri" Bailey was replaced by Yvette "Corvette" Marine. Yvette Marine would later filed a lawsuit against Paula Abdul claiming it was her vocals and not Paula's on the multi-plaitium CD "forever your girl. Yvette lost the suit.
James did all of the writing and producing on The Mary Jane Girls' self titled debut album of 1983 (which boasted such hits as the infectious "Candy Man" and the sexy, irresistible "All Night Long") as well as on the group's sophomore effort of 1985, All Four You. That album contained the #3 R&B hit "In My House" and the #10 R&B hit "Wild And Crazy Love." The only song James didn't write for the group was a 1986 cover of Frank Valli & The Four Seasons' "Walk Like A Man," which was included in the comedy film A Fine Mess.
Regrettably, The Mary Jane Girls never recorded a third album. James had a major falling out with Motown in the mid-1980s, and this would lead to the group's breakup. When Ghant was working at the music-industry trade magazine Black Radio Exclusive in 1986, she told On The Scene Magazine that she hoped to see The Mary Jane Girls continue and work with hit producers/songwriters Jimmy Jam & Terry Lewis. But that never came about. By 1987, the group had officially broken up. In the 90's many artists sampled the girls songs. Mary j. blige, sean puffy combs and little kim to name a few. The girls reunited on the VH1 show "where are they now" without JOJO. They are looking to make a comeback.

Alex Henderson- allmusic guide
additional info by Sweettoi- Popstarr Fansite