The life of Ms.V
All the infomation in this article.
Was taken from interviews from various magazine, tv and books

---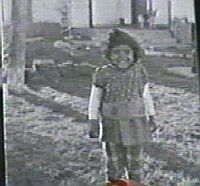 Vanity was born Denise Matthew January 2, 1959. Denise grew up in montreal, Canada with 7 sisters. Her mother is of German decent and her father is African American. The household was dysfunctional to say the least. Denise accused her father of childhood physical and sexual abuse. Her mother was an alcholic who tried to commit suiside more than once. Denise had a diffcult time in school. Being biracial she was the victim of taughting from her classmates. At 16 her father died under all the stress. Denise left High School and ran away from home.
DD Winter B-Movie horror queen
Denise changed her name to DD Winters. She landed a few modeling jobs including a pearl drop toothpaste commercial. She starred in the b movies Tanya's island and Terror Train. Tanya's Island was directed by accaimed horror film director Alfred Sole. He went on to direct the cult classic "sweet alice". The special effects for the movie was done by oscar award winner Rick Baker. The movie about a young woman and her boyfriend on vacation on a desert island. She befriends an Gorilla type creature on the island. The creature falls in love with tanya and eventually they have a relationship (get it!) denise is nude during most of the movie. The flop when it was released but it is now a cult classic. Terror train is a horror movie that starred jamie lee curtis. The movie is about college students on winter break. while on the train there is a murder on the loose. Denise plays one of the students. Its no holloween but it's a pretty good movie.
Denise meets her Prince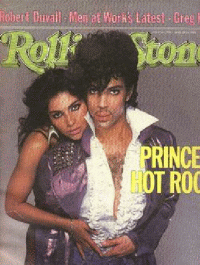 Denise wants to be a star. She moves to LA to get more work. While in LA she signs with the william morris agency. She meets singer Rick james. Rick is quite taken with denise and wants to add her to his camp as an recording artist. A chance meetting with Prince changes the whole script. While working backstage at the American Music Awards in 1981. Prince manager asks denise to excort his client prince to the bathroom. denise claims she never heard of prince. She was overseas in japan when prince was breaking into the pop scene; and was really into rock music at the time. Prince was a bit tipsy and was asking if he could try on her jacket. Any she thought he was gay but soon found out he wasn't. Denise gave him her phone number. He called her 3am and she basically told him off and told him to call back a decent hour. He called back and asked her on a date . Denise agreed but only to a double date. Denise bought a friend and prince bought Morris Day. They hit it off.
From Denise 2 VANITY
Prince asked vanity if she would like to join a girl group he was developing. She said yes and moved to MLPS. The group was called "the hookers" susan moonsie and brenda bennet were already members. Prince decided denise needed a stage name. He wanted to name her vagina. she was like no way! Then they both agreed to Vanity. Then Prince renamed the group vanity 6. Prince was in total control of vanity and vanity 6. He told her what to wear, how to dance. Vanity didn't really have a say in her own career. Vanity did contribute to the song "nasty girl" and wrote some of her scenes in "purple rain". Vanity and Prince had a very dysfunctional relationship. Vanity lived with prince yet he continued to see other women. This hurt vanity because she really loved prince. She would confont prince about this often. One arguement prince kicked vanity out of his car and left her on the road (Nice guy). While on the 1999 tour they stayed on separte tour buses hmmmm. Things with vanity 6 were a little better. Their first single "he's so dull" written by Dez Dickerson didn't do well. It was a great single; but the video didn't get any airplay on MTV. They felt 3 girls in lingere wasn't the image MTV wanted to promote. The next release "nasty girl" recieved a better welcome. DJ's and R&B radio around the country played the song. It was a hit going to #1 with a bullet. Vanity 6 promoted by going on tour, autograph signing, tv apearences. During intense rehersals for the movie purple rain and recording the follow-up to the first album. Vanity decided to leave prince. This was hard for her but unfortunately she also started using cocaine. Vanity says she started using the drug because she was going though depression. The drug made me feel like I could keep up with the hectic schedule and stand up to prince. It gave me a false sense of confidence and that everything was fine when it wasn't. Prince replaced vanity with a unknown actress Pat Kotero. He renamed her Apollonia. Purple Rain went to make over 70 million dollars
Vanity goes solo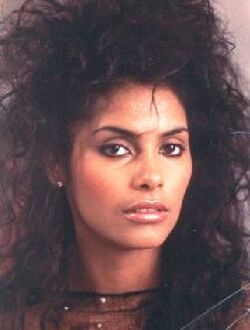 Vanity signed a million dollar deal with motown records. She recorded the album "wild animal" in 1984. Vanity was really excited about the project. Now she would have a hand in developing her career. Motown relied on vanity's sexuality to generate interrest in their new star. The first single "pretty mess" had a lukewarm reception. Vanity wrote the storyline and co directed the video. Motown wanted vanity to star in a movie they were developing. In 1985 the movie "the last dragon" starred vanity and newcomer taimak. Vanity wanted to portray herself more innocence way. Rather than the nasty girl image people are use to. It worked! the movie received mixed reviews but vanity performance was praised. Vanity recorded 2 songs for the soundtrack that also included Debarge hit song "rhythm of the night". "Skin on skin" was vanity's 2nd solo release. This album recieved better reviews and vanitys vocal skiils improved. "Under the influence" was the first single. Its a hot dance track. One of my favorite songs. Vanity was host for the motown summer series which aired on NBC. Vanity went on to make more movies Never too young to die w/ john stamos, Action Jackson w/ carl weathers deadly illuison w/ billy dee williams. She also made numerous tv apperances miami vice w/melianie griffin, tales from the crypt w/whoopie goldberg, Highlander the series. Vanity's last movie was the 1993 film "Davinci's War". The movie starred john travolta's brother joey. After suffering a stroke due to drug use. Vanity changed her name back to Denise. She married football player Anthony Smith. They later divorced. Denise is now a born again christian and speaks across the country about her life.
Home