Introduction
Welcome to popstarr fanpage. Here tyoucan find info about urban stars of the 80s and 90s. Classic artists like Jayne Kennedy, Apollonia, Vanity 6 and The Mary Jane Girls. Current artists Regina King, Lisa Bonet and Jennifer Beals. Also visit our sister sites featuring classic artist DeBarge, Pebbles and Karyn White.

Popstarr @ yahoo group
This is an archived site for Popstarr Fansite (will not be updated). You can find older photos and post for your favorite ol' school urban entertainers.


Updates
I will be updating this site. Fixing links and adding updates.
Coming Soon Popstarr Blog
All current news and events will be on our blog.
---
In the news....
Where is Stacy Lattisaw?


I found an update on my childhood teen idol Stacy Lattisaw. I added the video King Holiday Stacy, New Edition, Fat boys and other celebrate Martin Luther King.

BV Buzz tracked down Lattisaw and learned that the singer is working on an inspirational project. "I'm working on a gospel CD, finally," she says. "My priorities began to change, and then I met my husband. I took a long break and have been raising my kids, and that kept me really busy. I have a son and a daughter, and they're 7 and 11 years old. But now, I'm about to start recording, and we're going to do the CD ourselves and put it out ourselves."

Lattisaw is married to music producer/songwriter Kevin Jackson, who penned the Tanya Blount hit 'Through the Rain,' and the two own a successful state-of-the-art recording studio called Night Flight in Fort Washington, Md. Ginuwine, Gladys Knight, Lil' Jon, Gerald Levert and gospel artist Deitrick Haddon are just a few of the artists who've recorded at Night Flight.-Jawn Murray (2005)



Stacey Lattisaw and her family were featured on Unsung on TVONE

Buy Stacy Lattisaw CDs @ Amazon
---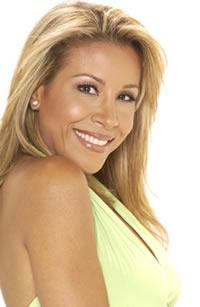 I got an email from Corvette from the Mary Jane Girls. Corvette aka Yvette Marine Barlowe has a talk show 'In the mix with Yvette' on Public Access. Find out what Yvette has been up to on her official website Yvette Barlowe